Create innovative, inspiring and durable designs in your backyard with screw piles
What could be better than laying out our exterior space to make the most out of the nice summer weather with friends and family or simply to rest while admiring the wonders of nature.  
Personalizing your backyard will bring its share of benefits.  In addition for your property to stand out in bringing a unique value to it, a warm, inviting and functional design will undoubtably improve quality of life and that feeling of well being of everyone around.      
Screw piles are your best ally when it comes to supporting your exterior design projects.  Need inspiration? Here are some great ideas : 
For savvy epicureans and for those who enjoy festive ambiance and celebrating evenings with friends: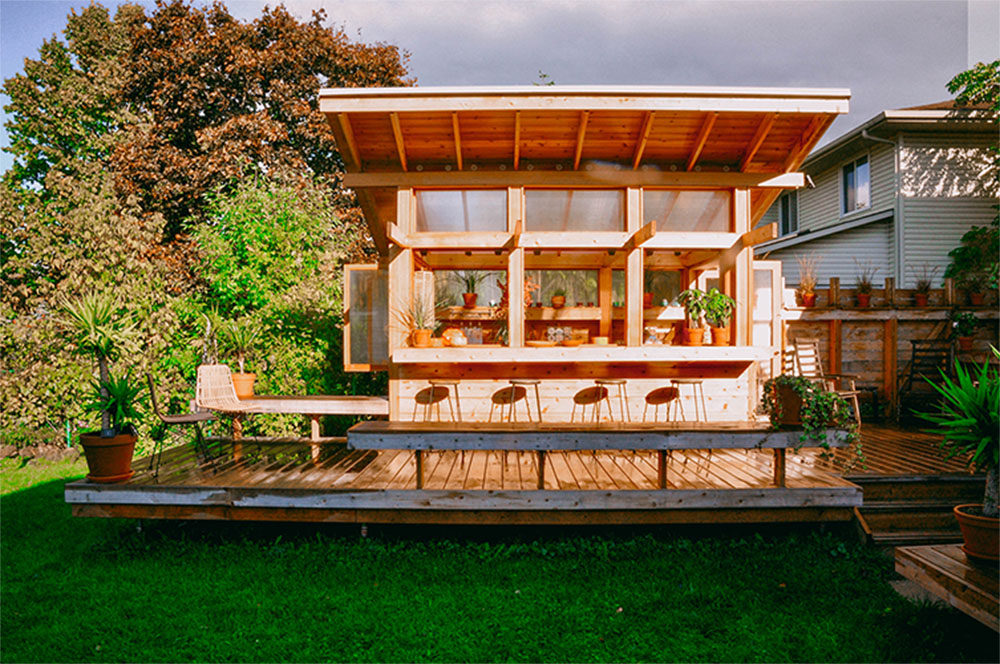 Make a stunning impression when welcoming your guests on a warm summer evening by preparing stunning exotic cocktails behind your bar in a tropical Hawaiian ambiance!  Install a few DEL lights under and behind the bar and in a snap, you will be transported to an exotic paradise ! 
Screw piles are the perfect foundation to ensure the stability of your tiki bar.  Once installed underground by a certified expert, you will be immediately able to start the construction of your dream design.
Under the stars outdoor lounge with a central fireplace: 
All you will need is a few wooden benches covered with large and ultra soft cushions connected to each other by corner tables decorated with nice illuminated plants to create the ultimate ambiance for the trendiest bar in town. 
And to push audacity a step further, you could plan a storage space under one of the tables to hide a wireless speaker in order to spruce things up with some singing along while grilling some sausages and s'mores !   
For both storage and patio platforms construction, screw piles are quick and easy to install and will enable the creation of your outdoor lounge design in a shake of lamb's tale.  
A customized outdoor kitchen for the chef of the family:
Facilitate the life of the chef cook of the house by designating a space not only to place the traditional barbecue but also to include all others amenities that will prevent the endless back and forth while entertaining guests at an outdoor event!   
Indeed, to design a storage and working space near the barbecue can be more than helpful as it also opens a world of creative ideas: add a counter to allow meal preparation while mingling with guests, plan for a plate and kitchenware storage unit for more convenience as well as adding a small refrigerator and a sink when possible to have everything you need right at your fingertips so you can enjoy the perfect moments with your loved ones.   These are ingenious, practical and affordable ideas to consider in your dream project!   
And to add some pizzazz to your storage space, you could also consider adding an intimacy wall made of wood slats to let the sun going through and from which you can fix a couple of shelves, hooks and decorative plants.  Voilà!
For both your intimacy walls and for your storage space, screw piles are the perfect solution: fixed within the ground, under the frost level, they will ensure an unsurpassed stability and durability over time.  
For your little budding sport kids: 
Contribute to the health and well being of your whole family with an amazing homemade playground that will please everyone for years to come.  An innovative idea is certainly to use screw piles to install a pear ball, badminton, tennis or volleyball net or a multifunctional play area for kids and friends.     
You also might want to push the concept even further by adding, in strategic areas, some wooden benches and small service tables which can also be supported by screwed piles for more durability and reliability.  
For outdoor evenings lovers: 
You are amongst those who love to enjoy the outdoors but are not too fond of mosquitos and chilly nights?  A gazebo or a solarium is definitively great options to be considered.  As soon as such structures are supported by screw piles, the possibilities are endless!  Movie night with the addition of a TV or a projector in the backyard or board games challenges with family and friends, the choice is yours! 
You could also extend the warm season to your convenience by adding a terrace heater or an indoor fireplace!  Another suggestion you might want to consider in order to embellish your dream space could be to designate a small area to plan for a mini garden with herbs and perhaps a couple of tomato plants.  Once this set up is completed, the only remaining thing to do will be to enjoy nature's fragrance and benefits!   
For those looking for an intimate and relaxing mood in their backyard:
Bring the atmosphere of urban spas at home with the installation of a spa either supported by screw piles or built-in a patio or terrace to ensure optimal robustness of such heavy structure.    
To accentuate that intimate mood, you could build an intimacy wall with wood slats on one or two sides of the spa that could also be used to put up shelving for drinks, drooping plants, hooks for towels, as well as thin lights to complete the desired warm and relaxing ambience.  And near the spa, why not install a hammock to extend that resting moment even longer after the water therapy?
The same area could also be perfect to plan for an outdoor shower or a pond with a fountain that will not only create an amazing focal point to your design but will also bring the beautiful and calming sound of water falling right in the middle of your backyard.  
Now that you can easily envision your future backyard design, it is time to move on!

Just share the outlines of your concept and plan with a great engineering team and they will guide you to as to what type and number of screwed piles required for the foundations of your project.  The installer, certified by the manufacturer, will be pleased to provide you with more information and a free quote.