A simple and quick process
Installing screw piles requires only three simple and quick steps that will result in your project being built on a solid, durable and guaranteed foundation.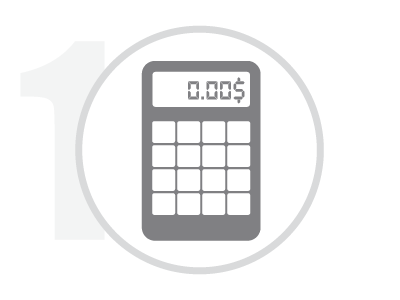 Evaluation
A single phone call, email or online quote request is all it takes for one of our certified installers to come to your location for a meeting. They will take note of your needs, determine the location of the structure to be supported and the exact number of piles required.
They will then provide you with an accurate cost estimate for the realization of your project. Count on the expertise of our installers to offer you the best possible solution!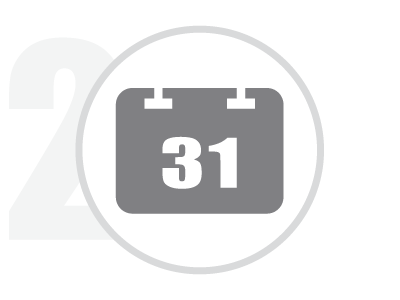 Planning
To ensure the best and safest results possible, our professionals are working with a team of engineers to ensure the strength and durability of your structure based on the activities you intend to perform.
Following the planning and validation, our installers will then contact you to determine the date and time of the installation as well as the expected duration of the work.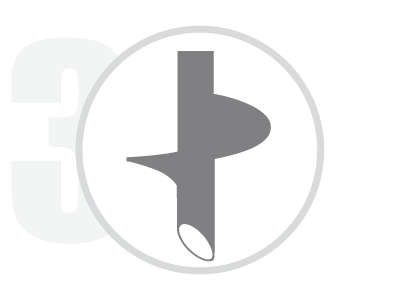 Installing
Only one of our certified installers will show up for the installation with our specially designed mini- tractor equipped with grass-friendly tires that won't damage the ground. Our experts will take the necessary time to put everything back in place on your property before they leave.
As soon as the piles are installed in the ground, they are ready to receive your structure immediately! Your foundations will be stable and level for many years, guaranteed!
Specialised equipment
Does not damage your land!
Pro Pieux Foundations uses a unique, robust and versatile equipment to perform the installation of screw piles: Kubota brand mini tractor. Efficient on all types of soil, rough or not, it is equipped with grass-friendly tires to avoid damaging your land. Whether you have a new or existing structure, it doesn't matter! Our specialized equipment makes it possible to install piles underneath them, even in
restricted areas.
Equipped with a mini-excavator at the rear, the tractor can extract rocks and obstacles, facilitating the precise positioning of the piles. Removing sonotubes and anchoring piles in rock is also possible with the mini-excavator. Thus, none of these conditions can delay the installation of the piles which can be completed quickly, often within a day.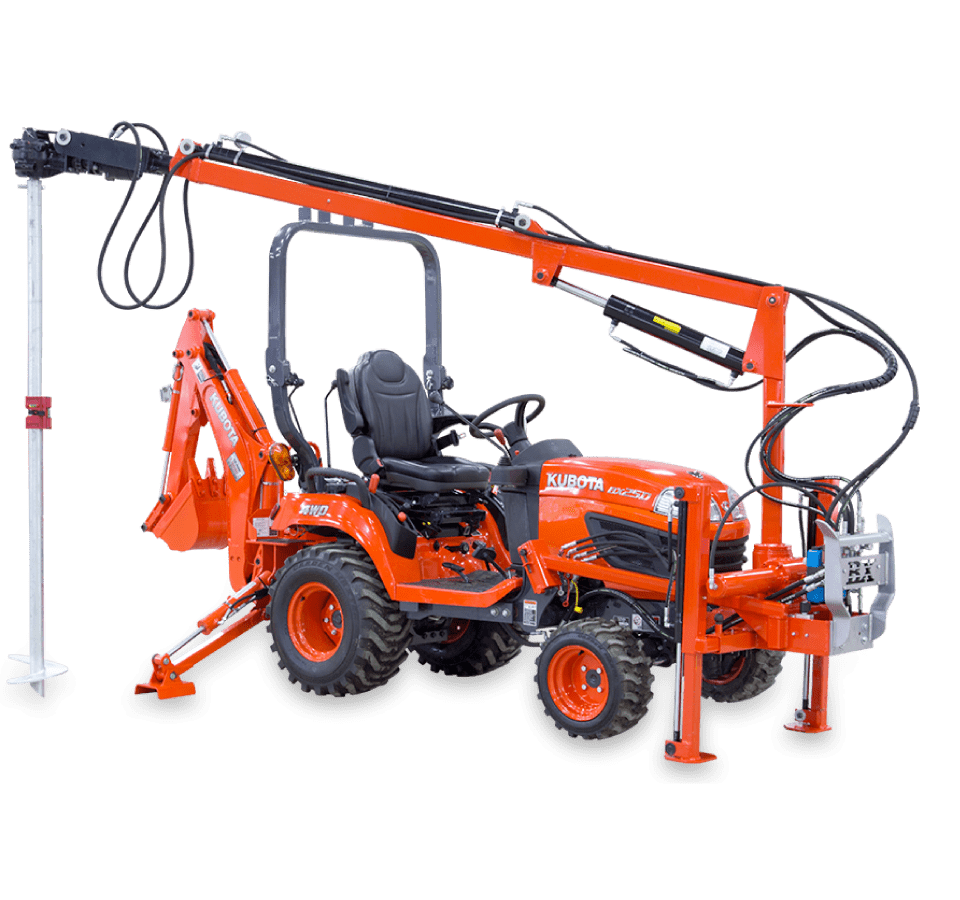 Installation guaranteed!
Pro Post Foundations offers a complete warranty on the installation of the piles. Our qualified installers will do an impeccable, clean and smooth job, even in the rain, they will surpass your expectations. Carry out your project safely and give yourself peace of mind for years to come
A certified and guaranteed product, a team of dedicated professionals and high-quality work; Ask for the pros, ask for Pro Post Foundations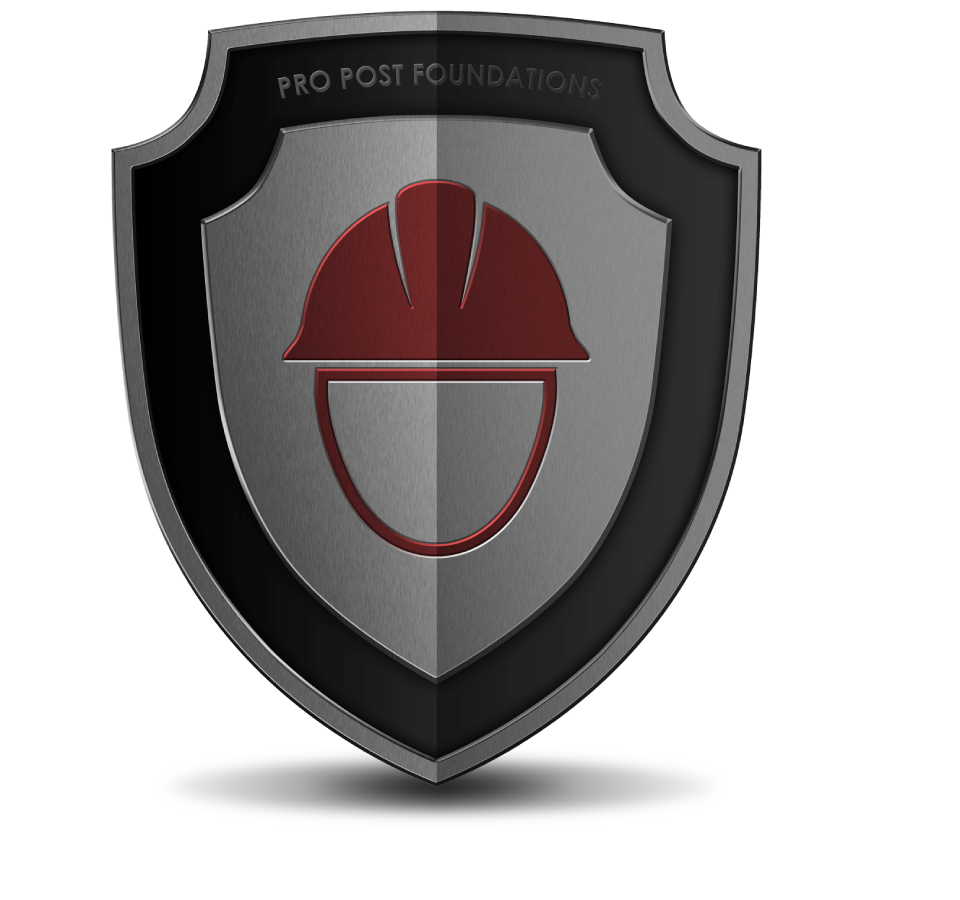 Our certifications
When it comes to the installation of screw piles, demand nothing less than certified piles. Our screw piles conform to the highest standards in the industry. Manufactured in Canada, Pro Post Foundations piles are certified by the Canadian Construction Materials Centre (CCMC) under license 13608 R, and therefore comply with the National Building Code and meet the required standards. Furthermore, we have a rigorous quality control system and our plant is certified by the CWB (Canadian Welding Bureau), thus assuring you of the quality of the installed product.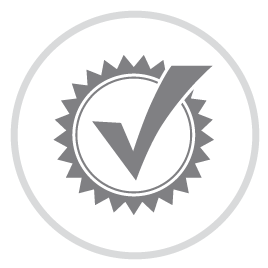 Certified products
Screw piles are certified by the CCMC under the license 13608-R.
Modern production facility.
Galvanized screw piles and accessories.
Product tested to strict standards and subjected to rigorous quality control.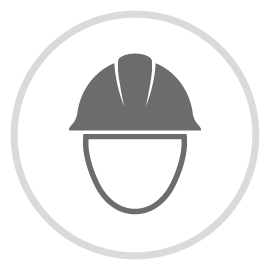 Certified and trained installers
Installers are trained and certified by the manufacturer.
Team of welders certified by the CWB (Canadian Welding Bureau), standard W59.
Know-how and professionalism are at the very heart of the Pro Post Foundations team.
Installers with over 15 years of field experience. Thousands of successful projects and piles
installed!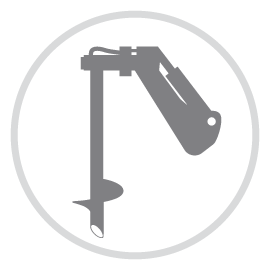 Fast and free of waiting
Installation of screw piles using a Kubota mini tractor 100% dedicated to the installation of screw piles. Does not damage the ground as it is equipped with turf tires and not tracks.
Equipped with a small excavator at the back, it can be used to remove obstructions in the ground when necessary.
Robust and very versatile, even in restricted areas or on slopes.