Building on a Slope: The Essentials to Know
You are about to build your property, a project you have dreamed of for a long time, but the only foreseeable obstacle slowing down your decision is that you must build on a slopy area? Screw piles are very efficient and are an economical solution that you should consider for the realization of your project.
The essentials to know when building on a slope

The fact of building in a slopy area brings more constraints you must know that there are several factors you need to consider before you start your project. 
The following information could guide you and help you make the best choices to ensure that your construction project runs smoothly.
Consult professionals
Since there are constraints due to the difference in height and a slope angle, building on a slope ground involves higher costs compared to building on flat ground, mostly due to the need of professional advice to ensure of the stability of the construction.
These professionals must provide that the construction is able to adapt to the ground in order to avoid movements that could endanger the construction, whether because of landslides, the presence of clay in soil or even poor-quality soil such as backfill. These professionals, often engineers, will therefore be able to guide you by taking all these factors into consideration.
Perform a soil study
Different construction techniques can be used depending on the steepness angle of your site. The choice of a technique largely depends on the type of soil your structure will be built on. Therefore, even if it is not mandatory, a soil survey is strongly recommended before any construction, especially in the presence of a slope. The information obtained from the soil analysis will allow to precisely know the nature, the type of the ground and its characteristics which will determine the type of construction and ideal foundation system for the realization of your project. This is a guarantee of safety and security!
You can also get some information from your city or municipality. Some of them can provide geotechnical data allowing you to have the necessary information, which will facilitate the soil analysis by your professionals. From there, the right type of screw pile as well as its installation depth can be easily determined, ensuring the quality of your foundation.
Helical piles: The essential ally for a structure built on an angled site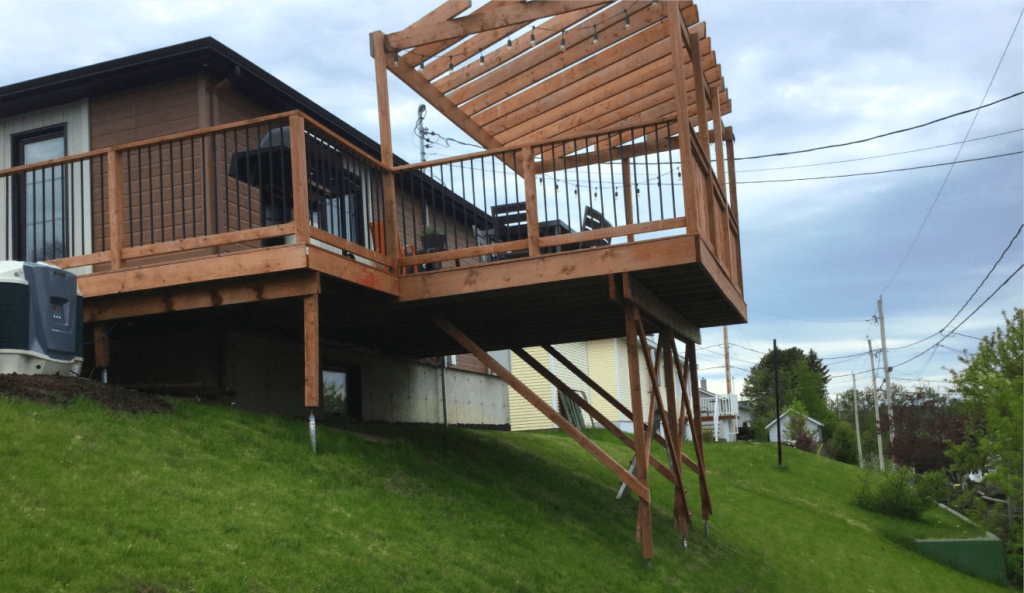 Often equipped with specialized and versatile equipment, companies specializing in the installation of screw piles allow their installation in narrow spaces and in slopy sites. Screw piles will provide strength, resistance and flexibility when building on a slope. In addition to being affordable, they are easy to install.
Based on the geotechnical information provided, the piles will be installed at a depth sufficient to minimize the risks taking into consideration landslides and erosion. The structure will have to be thought out so that sufficient bracing will be put in place to ensure the strength and stability of the structure. Screw piles are very suitable when installed in different types of soil whether it is clay, sand, or silt. They also are a must to consider when building on an angled site.
Ready to start building on a solid foundation system? For peace of mind, choose screw piles!