Building a Cottage on Screw Piles: A Solution to Consider!
Having a cottage to escape from time to time or to generate additional income through renting is a dream cherished by many people! If you are about to realize this beautiful project and build your own cottage, it is worth taking an interest in helical piles. Find out why building a cottage on screw piles is a solution to consider.
Build a cottage on a solid base with screw piles
Before starting any construction project, it is strongly recommended that you conduct an assessment of the soil and plans of your project using a certified engineering team. They will be able to make an assessment based on all the factors and constraints to consider in order to ensure that your foundation is solid and safe. So peace of mind is part of the equation.
Speaking of a solid foundation, since the screw pile is a complex engineering product, know that it has been specifically designed and tested to meet several rigorous criteria. Screw piles therefore offer a reliable solution to ensure a stable construction. Their use allows to go deeper into the ground to ensure stability and effective bearing capacity. Moreover, they are particularly recommended when building on a soil imposing several constraints such as:
Unstable, more difficult, clayey or sandy soil

An area prone to flooding

Sloping land 

A rocky area

When the rock is shallow or on the surface in certain places
When the construction project is located in a remote area, it may be interesting to consider the installation of screw piles rather than opting for concrete, which is particularly more difficult to deliver to remote areas in addition to generating additional costs related to the transportation of materials.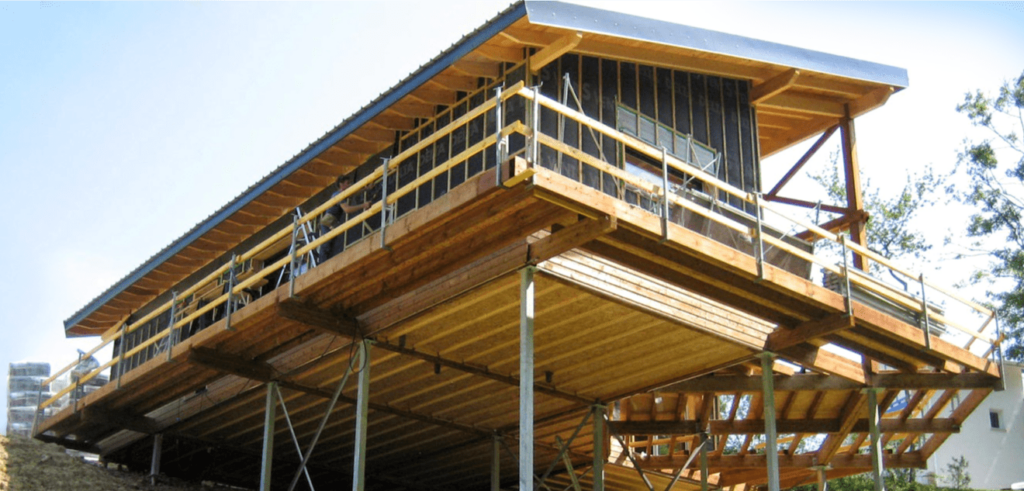 Be on the lookout for aspects to consider: A winning equation towards peace of mind
For your peace of mind, it is recommended to consider certain aspects of the comfort of your cottage. The use of helical piles as a foundation requires special attention to the insulation of the cottage. Indeed, floors can be more difficult to insulate, therefore, more uncomfortable in winter. It is suggested to close with a small wall under the room taking care to leave 6 inches of distance between the ground and the wall to allow the ground to swell and deflate during seasonal changes.
In addition, by directly insulating the water pipes with a foam sheath that can be, depending on the case, paired with a small wall, it will avoid the risk of your ducts freezing. Your contractor will be able to advise you on how to properly insulate your new construction.

Building a chalet on screw piles: The advantages
In addition to being a solid engineering product, screw piles are also recognized for other advantages such as:
Excavation: No or very little excavation is required when installing screw piles, so the land does not suffer damage.

The installation is fast: We save time and by all means money.

Saving money: Costs are usually lower than for a concrete foundation, floor slab or basement. Screw piles are therefore an excellent alternative to the concrete pilaster called sonotube.
Peace of mind: By providing the plans of your cottage to the engineering team of the screw pile company you will ensure that you get a good analysis of the situation as well as an accurate description (pile size, depth, torque, etc.) on the necessary piles. When the piles are installed at the right depth and sufficient tightening torque, it ensures the stability of your foundation. For sloping structures, in addition to the diameter of the pile, bracing may be necessary for the stability of your cottage.
Construction possible the same day: Once in the ground, the piles are ready to accommodate the structure of your cottage. By using screw piles, it is possible to start the construction of your cottage the same day, no drying time is required compared to concrete.
Flexible: With good planning, you can first build a seasonal cottage (without insulation) and adapt the cottage in a second time so that it becomes 4 seasons in the future.
As always, our experts will be happy to accompany you in the construction of your projects and advise you, inquire with your expert in screw piles. So, are you convinced of the many advantages of screw piles for the construction of your cottage?